Projects
研究プロジェクト
Projects
基礎研究(中長期研究)
Basic Research (Mid- and Long-term Research)
AIに関わる新たな研究領域を切り開くため、東京大学が世界に誇る最先端の学術研究とAIとの融合を実現するとともに、海外の有力大学からも研究者を招聘、世界最高レベルのチームによる最先端のAIの基礎研究を実施します。
In order to open up new research areas related to AI, the University of Tokyo will integrate its world-class cutting-edge academic research with AI, and researchers from leading overseas universities will be invited to conduct basic research on cutting-edge AI by world-class teams.
Super AI
Advancement of AI itself
Hybrid AI
Coordination with other leading-edge research
応用研究(ハイサイクル研究・CIP)
Applied Research (High-cycle Research / CIP)
社会実装を念頭に置きCIP制度等を活用して研究成果の事業化を目指した研究を推進します。更に迅速に事業会社を立ち上げ、その事業化益を還元することからなるエコシステムの構築を目指します。全東大教員の中から研究リーダーを任命、テーマごとに短期間のプロジェクト体制で社会実装を推進しており、実務性と機動性を兼ね備えたジョイントベンチャーの発射台(JV-Platform)としての役割をはたします。
掲載プロジェクト以外にも事業化に向けた多数の応用研究が進行中です。
With social implementation in mind, framework such as the CIP system will be used to promote research aimed at commercialization of research results. Our goal is to create an ecosystem that includes the rapid establishment of operating companies and the return of the profits from their commercialization. Research leaders are appointed from faculty members of the University of Tokyo to promote social implementation through short-term project structures for each theme, serving as a launch pad (JV-platform) for joint ventures that combine practicality and agility.
In addition to the projects listed below, many other applied research projects are underway for commercialization.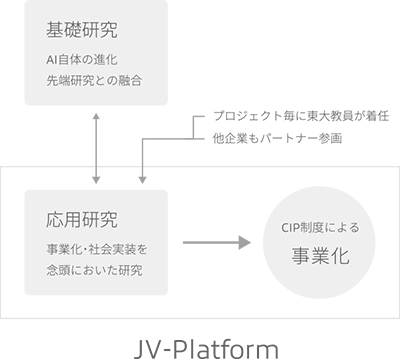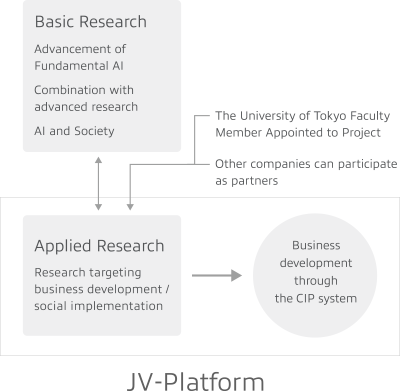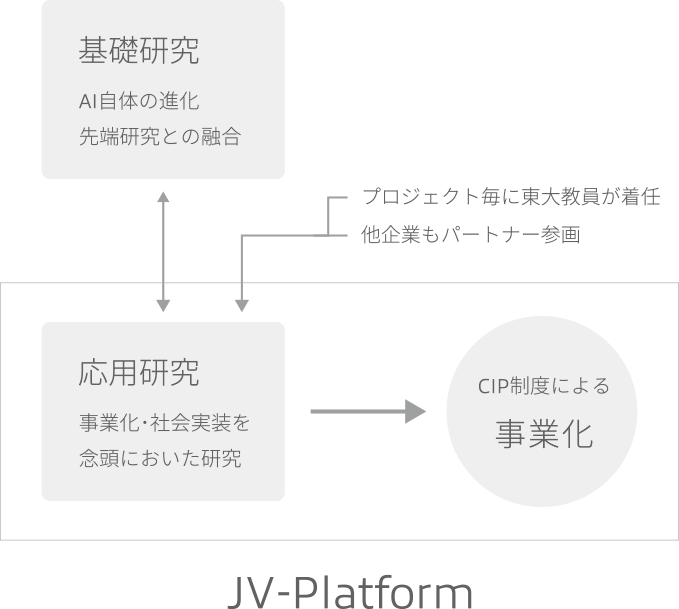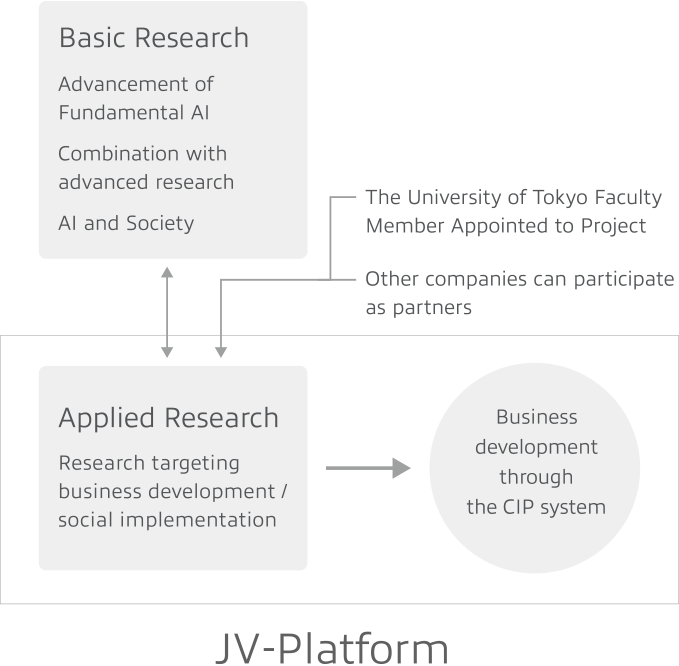 東京大学 工学系研究科

Graduate School of Engineering, The University of Tokyo

田中謙司 准教授

Kenji Tanaka | Associate Professor

東京大学 大学院医学系研究科

Graduate School of Medicine, The University of Tokyo

大江 和彦 教授

Kazuhiko Ohe | Professor