Projects
研究プロジェクト
Projects
医療データの標準化と医療データ流通の促進  ー 健康医療情報標準流通基盤技術研究組合 ー
Standardization of Medical Data and Promotion of Medical Data Distribution - Hemillions C.I.P (CIP for Infrastructure Technology Research in Health and Medical Information) -
医療データの標準化と個人主権型データ流通および利活用の遅れ
Delay in standardization of medical data and individual sovereign data distribution and utilization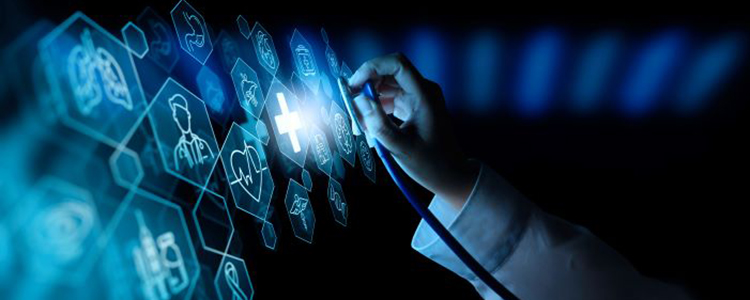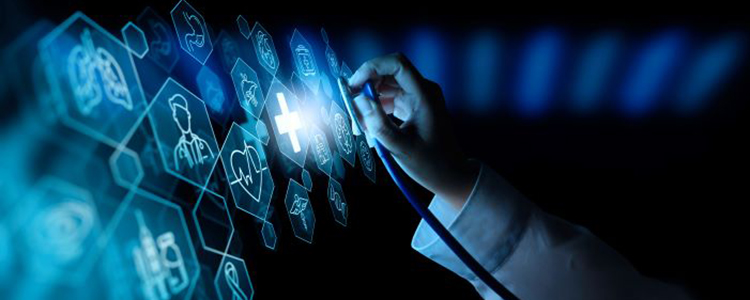 日本の医療やヘルスケア分野でのデータ活用は、さまざまな要因により活用基盤の整備が遅れている状況です。医療データは法令に基づき厳格な管理下での取り扱いを必要とする個人情報である点に加えて、医療機関や電子カルテのベンダーごとにデータの形式や内容のコード化の記述方式が異なり、活用には個別にプログラムの開発が必要とされています。そのため技術障壁が高く、開発コストの高止まりや外部とのデータ連携の仕組みの煩雑さがあり、データ活用が十分に進んでいません。

一方、米国をはじめとする海外では、医療情報を交換するための新しい標準規格であるFHIRの普及が進み、各国が主体となってAPIや実装ガイドなどの整備・提供に取り組み、健康・医療分野でのデータの活用が進んでいます。

日本においても、FHIRを活用できる環境の整備と、データの標準コード化の普及を進めることで、電子カルテシステムとその他の情報システムとの間での相互運用性を高め、医療機関同士が患者データを共有しやすくすることにより、医療やヘルスケア分野におけるデータ活用が進むことが期待できます。

Data utilization in Japan's medical and healthcare fields lags behind due to various factors. Medical data, being personal information, requires strict control following various laws and regulations. Additionally, each medical institution and electronic medical record vendor has its own data format and coding scheme, necessitating the development of individual programs. Consequently, high technological barriers, development costs, and complex data linkage mechanisms hinder sufficient progress in data utilization.

In contrast, the U.S. and other countries are widely adopting FHIR (Fast Healthcare Interoperability Resources), a new standard for exchanging medical information. These countries actively develop and provide APIs and implementation guides, promoting data use in the health and medical sectors.

In Japan, the anticipated development of an environment supporting FHIR usage, and the widespread adoption of standardized data coding will enhance interoperability between electronic medical record systems and other information systems. This will facilitate the sharing of patient data among medical institutions and promote data utilization in the medical and healthcare fields.

本研究の取組の中で、2021年10月、健康医療情報標準流通基盤技術研究組合(CIP)を立ち上げました。また、2023年4月には前述のCIPから新設分割により、2023年4月に株式会社HEMILLIONS(以下「HEMILLIONS」)を設立しました。HEMILLIONSは、健康・医療データを安全で効率的に活用できるよう、FHIRに代表される標準的な情報基盤を社会に提供することを目指します。この情報基盤は、新しい技術を柔軟かつ低コストで実装することを可能とし、幅広い利用者の利便性を向上させます。今後、FHIRサーバー向けの国産ソフトウエア「FRUCtoS」を医療機関向けに提供し、FHIRに準拠した健康・医療データの安全・安心な流通に貢献します。「FRUCtoS」は、すでに大規模なテストにおいて、データを用いた性能検証や既存の医療情報システムとの接続検証を行い、その実用性が確認されています。
本CIPでは、HEMILLIONSと共に「FRUCtoS」の更なる発展と健康医療情報の流通基盤を実現するために必要な研究開発を継続して参ります。
In pursuit of addressing the aforementioned challenges, we launched the Consortium for Infrastructure Technology Research in Health and Medical Information (CIP) in October 2021 as part of this research endeavor. Furthermore, in April 2023, we established a new company called HEMILLIONS as a spin-off from the CIP.

HEMILLIONS aims to provide a standardized information infrastructure, using FHIR as a representative, to enable the safe and efficient utilization of health and medical data. This infrastructure will support the flexible and cost-effective implementation of new technologies and enhance convenience for a wide range of users. We will provide FRUCtoS, a domestically produced software for FHIR servers, to medical institutions. This will contribute to the secure and reliable distribution of FHIR-compliant health and medical data. FRUCtoS has undergone extensive testing to verify its performance, data compatibility with existing medical information systems, and practicality.

Within the CIP, we will continue to collaborate with HEMILLIONS to engage in the necessary research and development for the further advancement of "FRUCtoS" and the realization of a robust distribution infrastructure for health and medical information.

健康 ・医療データを利活用しやすいように安全に預かり、安心して利活用に提供できる基盤を社会に提供
Provide society with a platform that safely stores standardized health and medical data for easy and secure utilization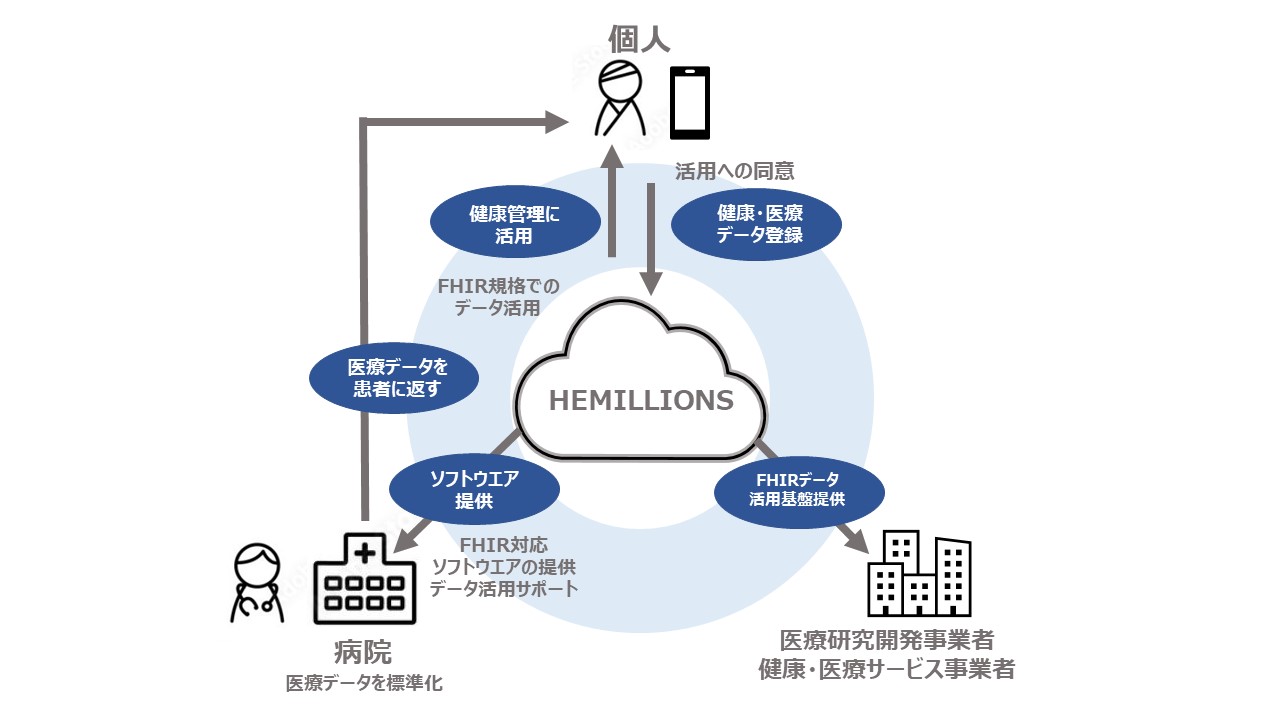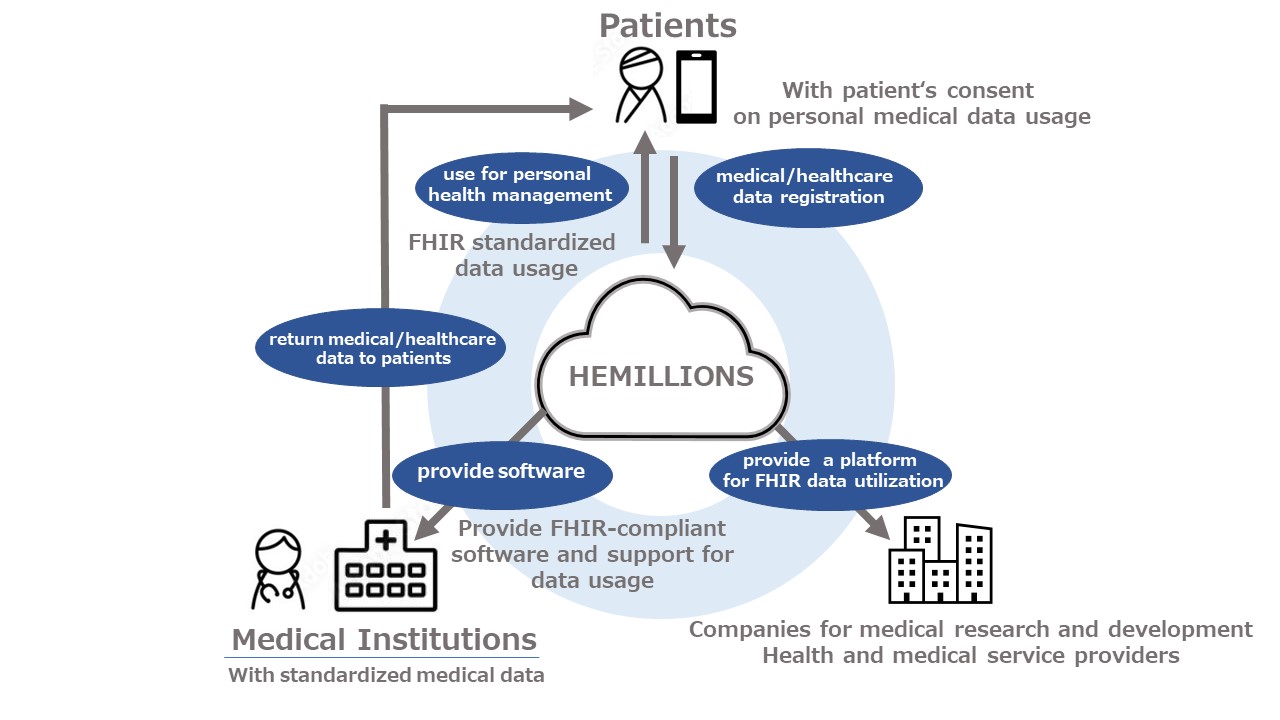 HEMILLIONSは「ITとAIを駆使した次世代の医療ヘルスケアを実現し、安全・安心に健康医療データの活用できる社会を構築することで、あらゆる人々の健やかな人生を支える」をビジョンに、患者や医療従事者が健康医療データを安全かつ効率的に利用でき、研究開発などの利活用にも対応できる情報基盤を開発し、医療の場や社会全体に導入していくことで、日本における医療費の削減と、医療・ヘルスケア産業全体のイノベーションを促進していきます。また、さまざまなサービスやソリューションを提供し、社会における医療ビッグデータの活用推進に貢献することを目指していきます。

「HEMILLIONS」 ホームページ
https://www.hemillions.co.jp/
HEMILLIONS envisions "supporting healthy lives for all people through next-generation medical healthcare utilizing IT and AI and ensuring the safe and secure utilization of health and medical data". In line with this vision, HEMILLIONS aims to develop an information infrastructure that allows for the safe and efficient utilization of health and medical data by patients and healthcare professionals, as well as for research and development purposes. By introducing this infrastructure into medical settings and society as a whole, HEMILLIONS seeks to promote innovation in the healthcare and medical industry and reduce healthcare costs in Japan. Additionally, HEMILLIONS aims to contribute to the advancement of medical big data utilization in society by providing various services and solutions.

HEMILLIONS Official Website (Japanese only) :
https://www.hemillions.co.jp/