The Future of Higher Education in the AI Age
The Future of Higher Education in the AI Age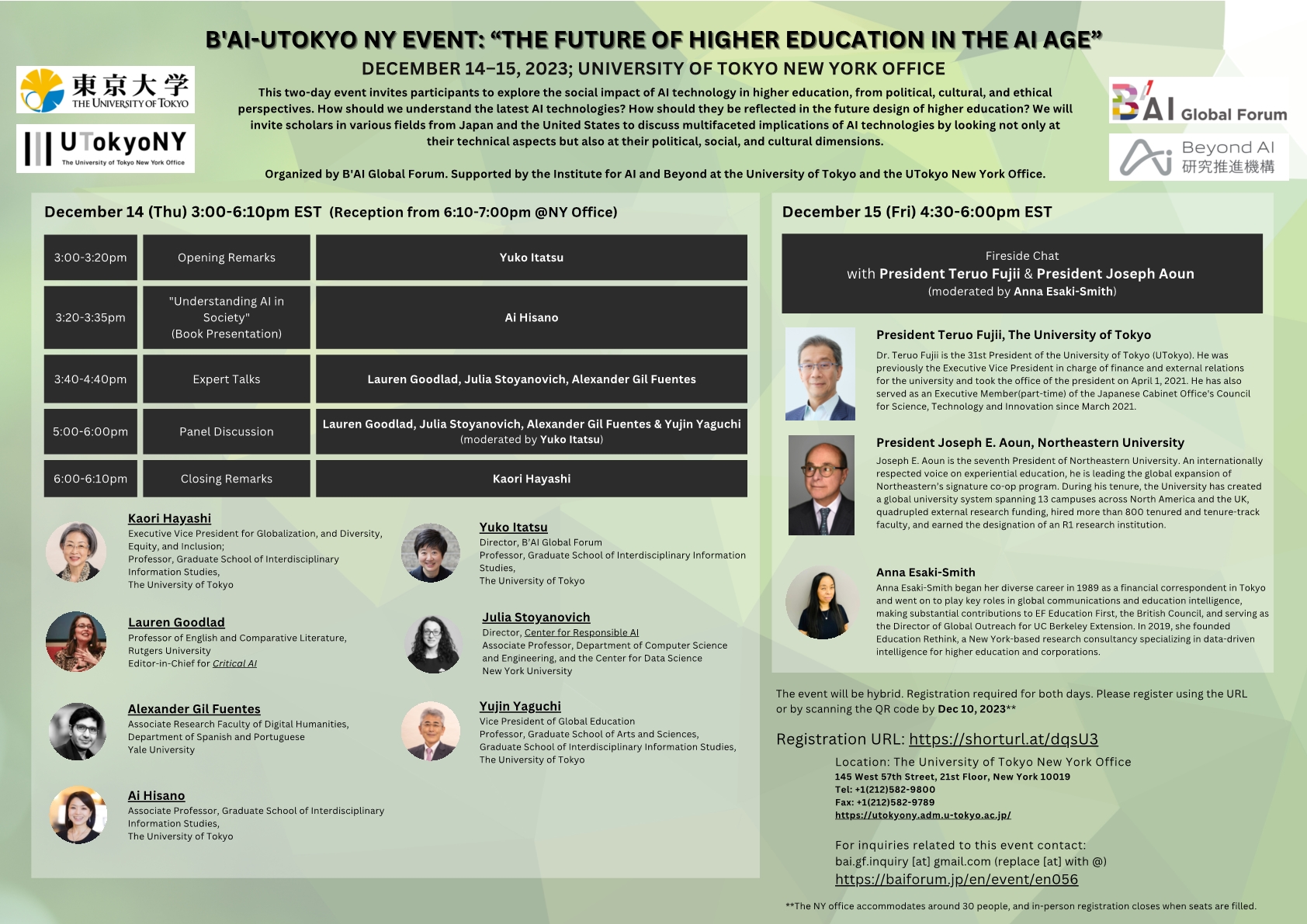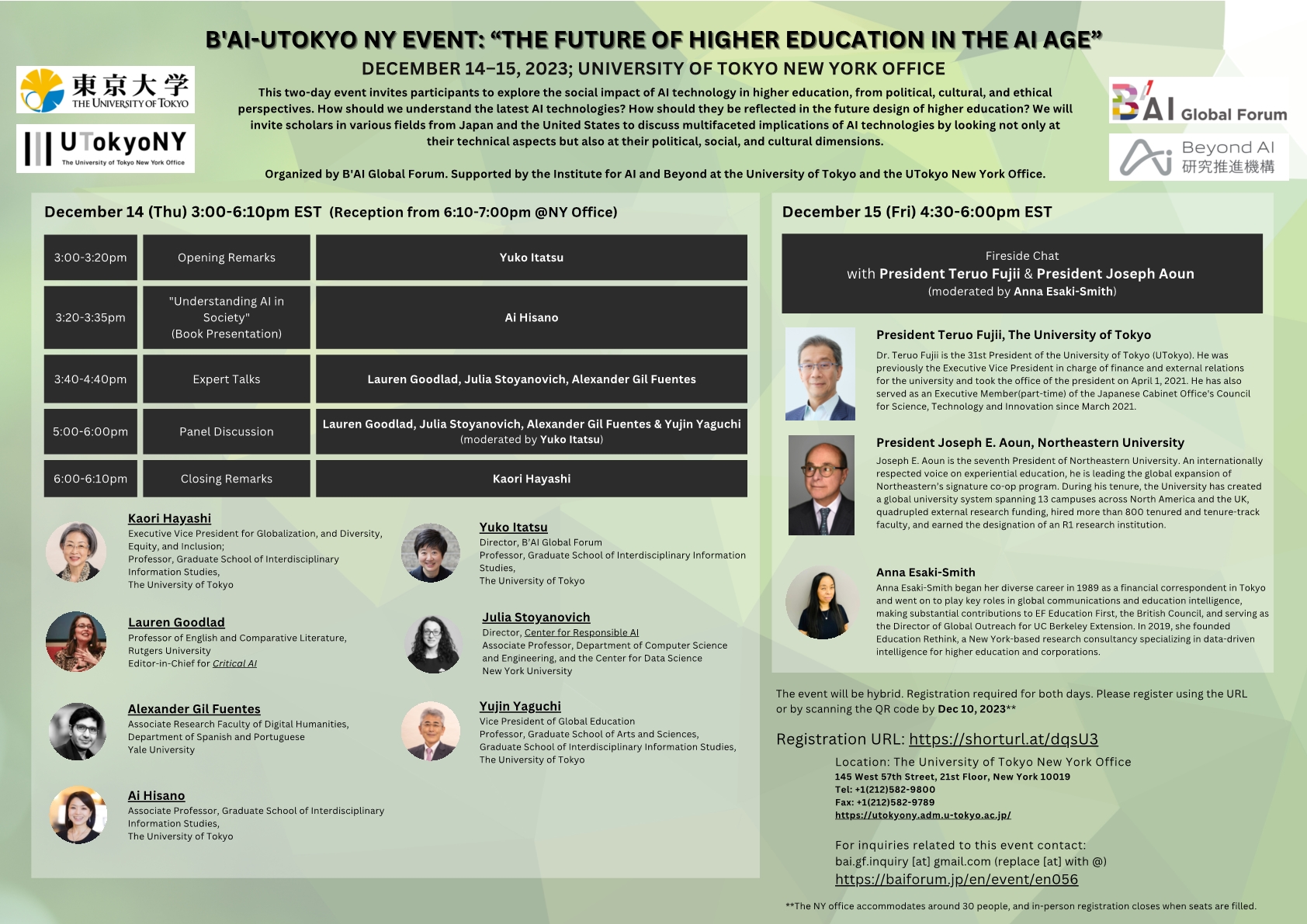 近年、ChatGPTや検索エンジンなど、AI技術は私たちの生活に意識的・無意識的に浸透しつつあります。急速に開発が進み社会のあらゆる場面で使われ始めているAIは、イノベーションや便利さをもたらすのみならず、人々の脅威になりうることが多くの研究者・識者から指摘されています。AI技術が広まる中、私たちは何を考え、どのようにその最新技術と向き合うべきなのでしょうか。本イベントでは、特に高等教育においてAI技術がもたらす影響やAIといかに接していくべきなのか、日米の大学で豊富な教育経験を持つ研究者らが議論を深めます。

1日目は、AI技術について技術的側面のみならず、多分野横断的に社会的・文化的・政治的・倫理的観点から論じるとともに、国内外の研究者と連携を図るため、当イベントでは、日米から様々な分野の研究者を招き、ラウンドテーブル形式でディスカッションを行います。

2日目は、藤井輝夫東京大学総長とジョゼフ・アウン・ノースイースタン大学学長を招き対談を行います。

当イベントは、東京大学Beyond AI研究推進機構のプロジェクトであるB'AIグローバルフォーラムが主催し、Beyond AI研究推進機構および東京大学ニューヨークオフィスの支援を得て開催します。

日程:
米国東部標準時(EST) 2023年12月14日(木)午後3:00-6:10(EST)
               12月15日(金)午後4:30-6:00(EST)
日本時間(JST) 2023年12月15日(金) 午前5:00-8:10(JST)
            12月16日(土)午前6:30-8:00(JST)
形式:ハイブリッド(対面 & オンライン) (※後日配信あり)
会場:東京大学ニューヨークオフィス
言語:英語
参加方法:参加には事前申し込みが必要です。下記URLよりお申し込みください。
 https://shorturl.at/dqsU3
※申込〆切: 2023年12月10日(日)
※対面参加の定員は30人です。定員に達したところで申込を締め切らせていただきますこと、ご了承願います。
主催:東京大学 Beyond AI研究推進機構 B'AIグローバル・フォーラム
後援:東京大学 Beyond AI研究推進機構、東京大学ニューヨークオフィス
お問い合わせ:bai.gf.inquiry [at] gmail.com  ([a]を@に変更してください)

This two-day event invites participants to explore the social impact of AI technology in higher education, from political, cultural, and ethical perspectives. How should we understand the latest AI technologies? How should they be reflected in the future design of higher education? We will invite scholars from various fields in Japan and the United States to discuss multifaceted implications of AI technologies by looking not only at their technical aspects but also at their political, social, and cultural dimensions.

This event is organized by the B'AI Global Forum at the University of Tokyo and supported by the Institute for AI and Beyond and UTokyo New York Office.

Date & Venue
・ Dates:
 December 14, 2023 (Thu) 3:00-6:10 pm (EST)
  (December 15, 2023 (Fri) 5:00-8:10 am (JST))
 December 15, 2023 (Fri) 4:30-6:00 pm (EST)
  (December 16, 2023 (Sat) 6:30-8:00 am (JST))
・ Format: On-site & Online Hybrid
・ Venue: University of Tokyo New York Office
・ Registration: Pre-registration required.
Please register using the URL below by Dec 10, 2023.
https://shorturl.at/dqsU3
・ Language: English

※ Please note that the seating capacity at the NY Office is about 30 people. In-person registration will be closed once all the seats are taken.
※ We will publish the video of the event on the B'AI Global Forum YouTube channel.
プログラム
12月14日(木) (日本時間 12月15日(金))
■開会挨拶 15:00-15:20(15日 5:00-5:20 JST)  
板津 木綿子(東京大学大学院情報学環教授)
■B'AI編著紹介 15:20-15:35(15日 5:20-5:35 JST)
久野 愛(東京大学大学院情報学環准教授)
■【講演】「AIと高等教育」 15:40-16:40(15日 5:40-6:40 JST)
・Lauren Goodlad (ラトガース大学教授)
・Julia Stoyanovich (ニューヨーク大学准教授)
・Alexander Gil Fuentes (イェール大学准教授)
■【パネルディスカッション】 17:00-18:00(15日 7:00-8:00 JST)
[パネリスト] 
・Lauren Goodlad
・Julia Stoyanovich
・Alexander Gil Fuentes
・矢口 祐人(東京大学副学長)
[モデレーター] 
・板津 木綿子
■閉会挨拶 
林 香里(東京大学理事・副学長)
12月15日(金) (日本時間 12月16日(土))
■挨拶 16:30-16:45(16日 6:30-6:45 JST)  
林 香里(東京大学理事・副学長)
■対談 16:45-18:00(16日 6:45-8:00 JST)
・藤井 輝夫 (東京大学総長)
・Joseph E. Aoun (ノースイースタン大学学長)
[モデレーター] 
・Anna Esaki-Smith
Program
December 14 (EST) (December 15 (JST))
■Opening Remarks 3:00-3:20 pm (5:00-5:20 am, Dec 15 (JST))
Yuko Itatsu (Professor, Graduate School of Interdisciplinary Information Studies, University of Tokyo)
■Book Presentation "Understanding AI in Society" 3:20-3:35 pm (5:20-5:35 am, Dec 15 (JST))
Ai Hisano (Associate Professor, Graduate School of Interdisciplinary Information Studies, University of Tokyo)
■Expert Talks "AI and Higher Education" 3:40-4:40 pm (5:40-6:40 am, Dec 15 (JST)) 
・Lauren Goodlad (Professor, English and Comparative Literature, Rutgers University)
・Julia Stoyanovich (Associate Professor, Department of Computer Science and Engineering, and the Center for Data Science, New York University)
・Alexander Gil Fuentes (Associate Research Faculty, Digital Humanities, Department of Spanish and Portuguese, Yale University)
■Panel Discussion 5:00-6:00 pm (7:00-8:00 am, Dec 15 (JST)) 
[Panelist]:
・Lauren Goodlad
・Julia Stoyanovich
・Alexander Gil Fuentes
・Yujin Yaguchi (Vice President of Global Education, University of Tokyo)
[Moderator]:
・Yuko Itatsu
■Closing
Kaori Hayashi (Executive Vice President for Globalization, and Diversity, Equity, and Inclusion, University of Tokyo)
December 15 (EST) (December 16 (JST))
■Opening Remarks 4:30-4:45 pm (6:30-6:45 am, Dec 16 (JST))
Kaori Hayashi (Executive Vice President for Globalization, and Diversity, Equity, and Inclusion, University of Tokyo)
■Fireside Chat 4:45-6:00 pm (6:45-8:00 am, Dec 16 (JST)) (JST))
・Teruo Fujii (President, University of Tokyo)
・Joseph E. Aoun (President, Northeastern University)
[Moderator]:
・Anna Esaki-Smith